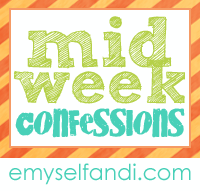 Agh. The midweek confession. How nice it is to virtually pick and choose the things to share with the few reader pals I have. It is funny - to think this is such a stake of honesty when in reality I screen
like
nobody's
biz
naaassss

That said, the interwebs isn't really a place for intimacy - unless it is your eharmony profile. Not like I've ever online dated or anything.....

Today, over lunch my pal Crystal and I discussed a lot of stuff. Jesus stuff. Food stuff. Boy stuff.
yada yada yada yada yada.
We also talked about honesty vs. intimacy.
They aren't the same ya know?
It took me a long time to see that.

I'll tell you lots, but ask me to be intimate and I'll
likely
run
and
scream
and holler.
or some version thereof.

That said, let's continue with the online-catholic-like confession.

Here we go:
I had trouble focusing at times during lunch with my pal because she just got the most beautiful hot platinum hairdo. I kept thinking, "I wanna go platinum....she looks beautiful...." #iwannabeblondokay?

I also may have shopped the after-christmas sales wayyyyyy to hard today while my car was getting fixed (it was 30 minutes but a lot of damage). I bought matching sweaters for Mummy, sissy and myself. They won't get theirs until Christmas 2012. I'm wearing mine tomorrow. (Mom don't look at me tmw, I don't want to give it away!)

I shopped at Talbots. I felt really old.

Last year I hung out on the seventh level of hades as I endured doses of poison Acutane. My face cleared up and I loved it. But the monsters have returned. I may have cried over it today. I may have remedied that with spending way too much on amazon.com on face products.

I gorged on processed meat and cabbage tonight. My mom and I are addicted to this crap she makes. I call it crap but I love it. It takes cabbage, sausage, and way too much oil and makes life delicious. Cooney came over and started feeding his face (he's trying to get SWOLE) and then my Aunt Linda stopped by after choir and fed her face. There we all sat around the table feeding our faces with way too much grossness/yuminess. It was basically the best way to end a day.

I confess that today some things stunk and some things didn't. Crystal, sales, and cabbage greasiness were great.
The rest. blarrr.....

Tomorrow is a new day. New mercies. I'm going to try to remember this.